Steve Mercieca is a long-standing member of Silicon Valletta and Co-Founder and CEO of Quicklets and Zanzi Homes. A risk-taker by nature, Steve constantly promotes doing things different and encourages his team to enjoy life and whatever they do on a daily basis. He remains true to form as nowadays you are just as likely to meet Steve with a shovel in his hand. We interviewed him to learn more about his mission into profit for purpose initiatives.
When you started out with Quicklets, one of your prime motivations was to disrupt the way you went about day-to-day work. You challenged the nine-to-five narrative and the employer-employee relationship that most of us take for granted.
When we launched we took a long time to plan the strategy and make sure the culture would be woven into the brand from inception. We concluded on 3 main pillars. The first is Innovation, we aimed to innovate the RE industry through the use of technology. Our team was the first on the island to develop and bring to market a CRM that was accessible from any internet connection. This gave our people the advantage to work from home and whilst on the field. This was followed by many other updates on our tech systems which till today are still ongoing.
Our second pillar is our culture. Also known as our peoples' pillar, this value is cultivated around the concept of attracting humans not people pretending to be something they are not. We want to attract people that feel comfortable at work, people which are like hearted and form part of the same tribe. We host many team events and have dedicated slack channels for things like pet-sitting and SOS car break down help. This pillar was also reflected in our office finishing. We used exposed concrete to remind our team that we are a transparent brand and have nothing to hide from each other or our clients. We choose marble in a mat color that resembles the moon's surface as much as possible to remind us every day to aim for the moon. Our desks are wood and iron, we used upcycled materials to design our offices to remind our people to respect planet earth and not waste natural materials.
Our third pillar is purpose. Our goals are all linked to giving back to people and the environment. We really get our team interacted and send monthly group news letters to our staff to keep them updated. We've been to Ghana and supplied schools with internet, we peg our rentals to children's education in Ghana and our sales to trees here in Malta. Our ongoing #Treedom campaign plants a tree with every property we sell, to date we've planted 2,800 trees. We host weekly clean-ups in the summer period and a sea bed clean up which always attracts a lot of interest from all our group and brings people from different offices together.
Furthermore, you chose to embrace technology as a key business driver. Did you see yourself as a digital entrepreneur and as a disruptor from the outset? or was this something that was a result of other motivations?
I've always enjoyed improving the way things are done, I see it more innovation than disruption. When I joined the RE industry I had an agenda. The agenda was to recruit as many people as possible, so they could benefit from the flexible working hours lifestyle agents enjoy. Our biggest challenge was the database. We didn't have one. What we did was get an ancient old system and brought it to market with a digital online platform, which we called the Virtual Agent. All the companies had been working with referrals for years, the only difference is that none of them made it publically available online with an easy-to-use client facing online portal. This gave us an edge and the tool to build Malta's largest database in only 4 years.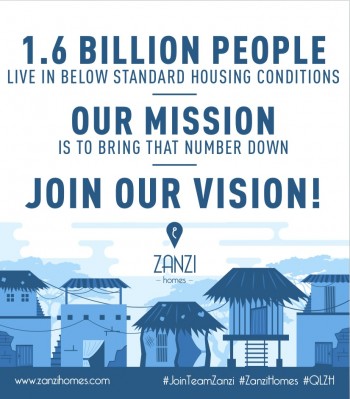 Besides running Zanzi Homes and Quicklets you have now embarked on projects with social impact as their key value drivers – Saggar and QLZH Foundation. What would you like the general public and Silicon Valletta community members to know about these initiatives?
The QLZH Foundation was our dream from day 1. When we finally started to make a profit we managed to achieve our first short term goal. This gave us the motivation to hit the ball out of the park with Saggar. The message I would like to get through the most would be "find your purpose". Understand why you are doing what you are doing. Follow your passion, but at the same time take care of our kind and our home. The first few years of a business are always hard, generally the last thing on people's mind would be giving back. My message would be start from day 1 with a conscious business, focus on profit for purpose. On our Saggar campaign we have completed 100,000 attempts to propagate Maltese indigenous trees to date. As everyone is aware sales of RE property plummeted in the last 3 months. I was going crazy, couldn't concentrate, lost my mindset. When I visited the nursery and saw what impact our projects had I was instantly motivated. It was like color TV – I could see the light, the why. My mind set switch in the flash of an eye. In Feb 2020 we close more deals than in the previous 3 months.
You are frequently asked to appear on panels or feature in articles – did you always see yourself as a thought leader? Or was this an evolution that required learning and a shift in mindset?
I've always had a loud character. I enjoy organizing things, I enjoy giving my opinion, I enjoy seeing data and I really enjoy bringing people together. My father was the GM of Mid Med bank, my grandfather was a Major in the army, my mum was manager of school. Possibly it's nature that put me there but I also nurtured it with my mindset and the books and documentaries I invest my time in.
You informed me that Saggar and QLZH Foundation are "profit for purpose initiatives". How do these projects compare to Quicklets and Zanzi Homes in terms of strategic thinking, mission and purpose? Do they require a different skillset, or are there shared learnings from the different industries/motivations? are they autonomous or do they enhance one another?
The foundation and the projects in the foundation, namely Educate The Kids, Make a Zanzi Wish, Treedom, Plastic Police, Seabed Cleanups and Saggar all have KPIs and are included in our quarterly OKRs.These are all non profit projects. We and our sponsors fund these campaigns depending on how much profit we make, hence why most of them are linked to profit generating targets. Our team works on them like any other section of the business and they are all included in our strategy meetings not just foundation board meetings. Saggar also has its own board and employs 7 people. So a direct answer would be they work hand and hand with each other, motivate everyone and definitely enhance one another.